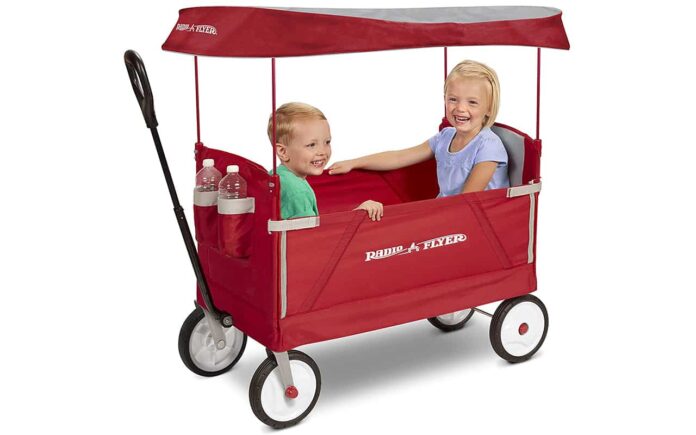 If you're a parent, you know how important it is to have a wagon for your little ones. A wagon for kids is a perfect way to transport your child around. They are also the best way to keep your child safe while you are out and about. Parents or your loved ones know that there's nothing more important than your little one. And when it comes to taking care of them, a wagon is the perfect option for one to consider!
This blog post will look at some of the best wagons for babies and toddlers and explain why they are so great. So, if you're in the market for a new wagon, read on!
Perks Of a Kids Wagons
Here are some of the benefits that come in handy with the wagon.
Spacious
Kids' wagons are designed to be roomy without compromising mobility. Whether it's the baby stuff you have to carry around, your stuff, or your toddlers' toys, the wagon can take it all. Some wagons are large enough to contain three babies at a time. But before filling it up, you have to follow the safety instructions carefully for the well-being of your children.
Toughness and strength
Yes, the kids' wagons look adorable, but behind this cute exterior, these wagons are robust. Besides the fact that they can bear a lot of weight, they are also really stable because of their box shape. The tires of the wagons are also made while keeping in mind the length of their mobility so that they can walk smoothly on rocky terrain to the beach's soft sand.
Resourceful and multipurpose
Kids' wagons are multipurpose. When you are not strolling your child around, your baby can use a toy to play with it. They can fill it up with their toys and drag it around. This physical activity can help develop your child's gross motor skills. Pushing and pulling a heavy load helps strengthen large muscle groups, and the practice of moving their arms and legs can improve coordination and balance.
Different Kinds of Wagons of Kids According To Their Needs  
If you're looking for a wagon for your kids, there are a few things you'll want to keep in mind. With these following factors in mind, you should be able to find the perfect wagon for your kids.
Strolling
If you're looking for a spacious stroller, a kid's wagon is the best option. They come with several benefits, including light-weight, foldable, spacious, storage space, etc., so this is a must-have when going on an adventure. But these are more expensive than the other varieties on the market.
Playing
Mostly kids' wagons are used in playtime- loading their toys and stuff in it and whooshing around. If that is the thing you're buying for, let it be small enough so it can be handled by your kids easily, but at the same time, it must be sturdy. Many new models come with more advanced features like drink holders, canopies, etc., so your kids can enjoy their adventure at their full.
Conclusion
There are a variety of wagons that are perfect for different ages and activities. You can find wagons that are great for taking your kids on walks or going to the park and wagons that can be used for carrying cargo. No matter what you need, there's definitely a wagon out there that will fit the bill.